If you had to pick one December birthstone, which would it be: tanzanite, turquoise or zircon? From the blue to bluish purple of tanzanite, to the intense blue and green of turquoise, to the rainbow varieties of zircon, there's a color for you. We help you pick one.
In this blog, we cover:
Tanzanite: The Newest December Birthstone
Gemological properties of tanzanite
Tanzanite history & lore
Where tanzanite comes from
Qualities to look for in tanzanite
Tanzanite treatments, care & cleaning
Turquoise: The Historic December Birthstone
Gemological properties of turquoise
Turquoise history and lore
Where turquoise comes from
Qualities to look for in turquoise
Turquoise treatments, care & cleaning
Zircon: The Colorful December Birthstone
Gemological properties of zircon
Zircon history & lore
Where zircon comes from
Qualities to look for in zircon
Zircon treatments, care & cleaning

TANZANITE: THE NEWEST DECEMBER BIRTHSTONE
Gemological properties of tanzanite
Tanzanite is the blue to violet to bluish purple variety of the mineral zoisite. This December birthstone is mined commercially in only one area of the world — the Merelani Hills of Tanzania — from where it gets its name.
Tanzanite's appearance is influenced greatly by its pleochroism – the different colors some gemstones show when viewed from different directions. Tanzanite can be violetish blue or deep blue – similar to a sapphire color – or much more purplish. Often, both the violetish blue and purple are readily visible in a fashioned stone when it is gently rocked and tilted. This December birthstone is rather fragile, ranking 6 to 7 on the Mohs scale of hardness; a diamond is a 10. The scale is exponential, meaning that a diamond is many times harder than tanzanite. Tanzanite's toughness (the ability of a gem material to resist breaking, chipping or cracking) is fair to poor because it has one direction of cleavage (the tendency of a crystalline mineral to break along atomic planes) and is sensitive to sudden temperature changes.
Gemologists love tanzanite because it shows different colors when viewed from different directions.
Tanzanite history & lore
Tanzanite may be a relative newcomer to the world of colored stones, but it was one of the most exciting gem discoveries of the 20th century. Blue stones emerging from Tanzania were identified as the mineral zoisite in 1962 by Polish expatriate George Kruchluk. Not until 1967, though, did prospector Manuel D'Souza — with the help of a Masai tribesman — locate the primary source: the Merelani Hills. D'Souza filed four mining claims. Word spread and 90 more claims were quickly registered – even though at the time there was some confusion as to the identity of the gem material.
Tiffany & Co. believed that tanzanite had international appeal and became its main distributor. In 1968, Tiffany launched a major advertising campaign to promote it. With its vivid colors, high clarity and potential for large cut stones, tanzanite quickly became a sensation. Today, it is not only a December birthstone, but it is also the gem for the 24th wedding anniversary.
Where tanzanite comes from
Grass-covered hillsides, scrub brush, rocky soil and an occasional tree form the landscape of the Merelani Hills. In the major mechanized operations there, thousands of workers recover tanzanite from mines dug over a hundred meters deep into the earth. North of the mines tower the snow-covered slopes of Mount Kilimanjaro.
Qualities to look for in tanzanite
Color: The most prized color in tanzanite is a pure blue similar to fine sapphire or an intense violet-blue. Tanzanite with a bluish purple body color is also popular, but less valuable. In any hue, pale colors are less prized than saturated ones.
Clarity: Tanzanite is usually free of eye-visible inclusions. If any inclusions are present – especially those that pose a durability problem, such as fractures – they typically lower the value.
Cut: Tanzanite is available in a wide range of shapes, but cushion and oval cuts are more common. Because of its pleochroism, cutting direction determines the gem's overall face-up color. Cutting a tanzanite to emphasize the bluish purple color usually wastes less rough than cutting it to get a pure blue or violetish blue color. The cutter has to make a choice between a smaller top-color gem and a larger bluish purple one.
Carat Weight: Fine tanzanite with a strong, deep color can be found in pieces weighing 5.00 carats or more. Smaller sizes in less saturated colors are commonly seen in mass market jewelry.
Tanzanite treatments, care & cleaning
Tanzanite is stable under normal wearing conditions, which means it's resistant to the effects of normal heat, light and common chemicals. Still, the December birthstone may crack if exposed to very high temperatures or sudden temperature changes. It can be attacked by hydrochloric and hydrofluoric acids.
Warm, soapy water is always the best way to clean this December birthstone. Ultrasonic and steam cleaners are never recommended for tanzanite.
Untreated, tanzanite is typically brown. Tanzanite is routinely heat treated to modify its color to a predominantly blue to bluish purple. The treatment is stable with no additional durability concerns.
TURQUOISE: THE HISTORIC DECEMBER BIRTHSTONE
Gemological properties of turquoise
Turquoise is found in only a few places on Earth: dry and barren regions where acidic, copper-rich groundwater seeps downward through deeply altered or broken rocks where it reacts with minerals that contain phosphorus and aluminum. The result of this process is a porous, semitranslucent-to-opaque hydrous phosphate of copper and aluminum.
This December birthstone owes its texture to its structure and composition. Turquoise is an aggregate of microscopic crystals that form a solid mass. If the crystals are packed closely together, the material is less porous, so it has a finer texture. Fine-textured turquoise has an attractive, waxy luster when it's polished. Turquoise with a less-dense crystal structure has higher porosity and a coarser texture, resulting in a duller luster when it's polished.
Porosity and texture don't just affect appearance: They also affect the durability of turquoise. This December birthstone is fairly soft—it ranks 5 to 6 on the Mohs scale of hardness. Turquoise with a coarse texture might have poor toughness, too, so it fractures easily. Samples with finer texture have fair to good toughness.
Gemologists love this December birthstone because turquoise often contains matrix: spiderweb-like veins that provide evidence of the rock in which it formed. They also like how turquoise is colored by copper, which creates some of the most vivid blues and greens in the gem kingdom.
Turquoise history & lore
Turquoise has been cherished for millennia. The pharaohs and other rulers of ancient Egypt adorned themselves with it. Chinese artisans carved it more than 3,000 years ago.
This December birthstone was thought to possess many beneficial powers, like guaranteeing health and good fortune. From the 13th century on, it was believed to protect the wearer from falling (especially off horses), and would break into several pieces at the approach of disaster. Hindu mystics maintained that seeing a turquoise after beholding the new moon ensured fantastic wealth.
Turquoise played an important role in the lives of Native Americans. The Apache thought turquoise could be found by following a rainbow to its end. They also believed that attaching the December birthstone to a bow or firearm made one's aim more accurate. The Pueblo maintained that turquoise got its color from the sky, while the Hopi thought the gem was produced by lizards scurrying over the earth.
Turquoise adorns the funerary mask of King Tut, who ruled Egypt more than 3,000 years ago. It also appears in jewelry belonging to more modern royalty, such as the Jordan turquoise demi-parure (turquoise, diamond and sapphire necklace and earrings) in the collection of Britain's Queen Elizabeth II. Wallace Simpson (1896-1986), Duchess of Windsor, wore a famous amethyst and turquoise necklace made by Cartier. Turquoise is also the gem of the 11th wedding anniversary.
Where turquoise comes from
Turquoise has been mined in the Nishapur district of Iran for more than 1,000 years. The even-colored, intense blue turquoise from this region is dubbed "robin's egg blue," "sky blue" and "Persian blue." Trade professionals now use these terms to describe turquoise of this color – regardless of the source.
Although New Mexico was the largest producer of turquoise in the U.S. until the 1920s, today most of the U.S. production of this December birthstone comes from Arizona and Nevada. Mines have evocative names like Dry Creek, Easter Blue, Emerald Valley and Fox. The Kingman mine in Arizona is a historically important source that is known for producing intense blue turquoise. Now closed to turquoise mining, the Sleeping Beauty mine was a prolific producer for more than four decades.
China is now the world's largest producer of fine turquoise. Hubei Province, in central China, is the source of most of the gem-quality turquoise currently being mined there.
Qualities to look for in turquoise
Color: The color of turquoise usually ranges from light to medium blue or greenish blue. It's often mottled, and sometimes it has dark splotches. It might also have veins of matrix running through it.
The most-prized turquoise color is an even, intense, medium blue, with no matrix and the ability to take a good polish. But some consumers prefer a greenish blue, and some contemporary designers seek turquoise referred to as "avocado" and "lime green."
Clarity: Turquoise can be semitranslucent to opaque. Semitranslucent stones are preferred.
Cut: Turquoise is most often fashioned as cabochons. The smoothly rounded dome shape sets off turquoise's color, texture and any matrix beautifully. In addition, manufacturers and artisans fashion turquoise rough into round or oblong beads for necklaces, and into small, flat pieces that are popular as jewelry inlays. Other rough material might be tumbled into "nuggets" or polished as free-form shapes that reflect the shape of the original rough. There are also examples of top-color blue turquoise engraved with Persian or Arabic inscriptions that are then inlaid with gold.
Carat Weight: Turquoise is available in a wide range of sizes. All sizes, even very small ones, are used in Native American jewelry, and large pieces have been popular for carvings. For any size, the quality and evenness of the color is the overriding value factor.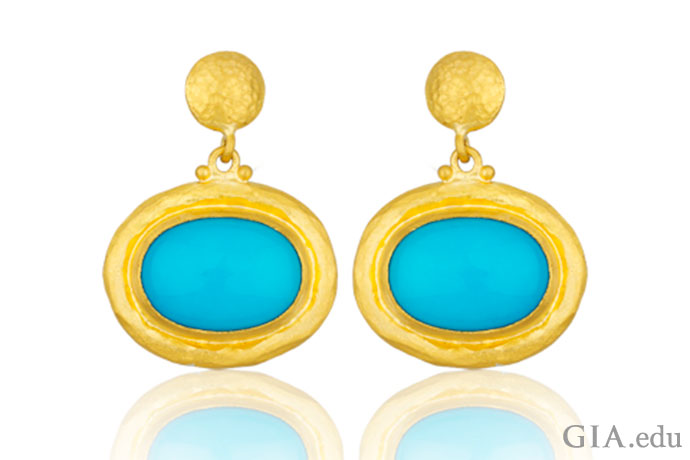 Rich blue turquoise surrounded by 24K gold makes these earrings a mesmerizing sight. Courtesy: Lika Behar
Turquoise treatments, care & cleaning
A colorless wax or polymer is often used to improve the color and luster of turquoise. Other treatments include applying epoxy to thin turquoise slices to strengthen them, applying coatings of lacquer or epoxy, and filling cavities with imitation pyrite inclusions made of metal-filled epoxy.
It's safe to clean turquoise jewelry with warm, soapy water, but this December birthstone should never be cleaned with steam or ultrasonic cleaners. Heat or solvents can damage the treated surfaces on some turquoise.
Turquoise is generally stable to light, but high heat can cause discoloration and breakage. Turquoise can be damaged by acids, and it can be discolored by certain chemicals, cosmetics and even skin oils or perspiration.
ZIRCON: THE COLORFUL DECEMBER BIRTHSTONE
Gemological properties of zircon
Zircon comes in a wide and varied palette of yellow, green, red, orange, brown and blue hues, making it a favorite among collectors and knowledgeable consumers. This December birthstone is 6 to 7.5 on the Mohs scale of hardness.
Colorless zircon is known for its brilliance and flashes of multicolored light, called fire. These two zircon properties are close enough to the properties of diamond to account for centuries of confusion between the two gems.
Gemologists love zircon because its radioactive trace elements are a geologic clock that tells us about the early Earth. This December birthstone also has very high luster, high refractive indices (the measure of the extent to which light is bent as it leaves a gemstone at an angle other than perpendicular to the surface) and strong dispersion, which is responsible for the brilliance and rainbow flashes of fire.
Zircon history & lore
The origins of the word zircon have elicited colorful debate. Some scholars believe it comes from the Arabic word zarkun, meaning "cinnabar" or "vermilion." Others think the source is the Persian word zargun, or "gold colored." Considering the color range for this December Birthstone, either derivation seems possible.
Zircon comes with pleasing lore. In the Middle Ages, it was thought to lull one into a deep sleep and scare off evil spirits. In the Hindu religion, zircon alternates with hessonite garnet as one of the nine gems of the navaratna. When worn together, the nine gems protect the wearer and bring good health, wealth and wisdom.
Victorians had a fondness for blue zircon. Fine specimens can be found in English estate jewelry from the 1880s.
Where zircon comes from
Sri Lanka's wealth of gems is legendary: Sapphire in various colors, ruby, alexandrite, spinel, tourmaline, moonstone and quartz are some of the gem minerals unearthed there. So is zircon. Elahera, a region in central Sri Lanka, is one of the country's most productive areas. Mountains, jungles and restless streams make for a dramatic landscape.
Australia's Harts Range is known for producing zircons in yellow-brown, orangy brown, pink and purple. Go there and you'll see open savannahs, dry stream beds and low-lying hills that meet the horizon. Zircon Hill is where the gem is mined. The nearby city of Alice Springs is known for its outback culture, aboriginal art and quirky sporting events like a regatta race held in a dry river bed.
Zircon is often located near sapphire sources. Countries where the two overlap include Sri Lanka, Myanmar, Vietnam, Cambodia and Australia.
Qualities to look for in zircon
Color: Some zircons display warm autumnal earth tones such as yellowish and reddish brown. Red and green zircons have market value as collectors' stones, and cat's-eye zircons occasionally appear on the market. There are also colorless zircons.
Although collectors clearly love zircon's variety of colors, consumers seem most enamored of just one hue: blue. Gem dealers report that at least 80 percent of the zircons they sell are blue. Because they're in greater demand, blue zircons usually command higher prices than any of the other varieties.
Clarity: Zircons are relatively free of inclusions. But many untreated zircons have a cloudy or smoky appearance that, if extreme, can be a negative factor with buyers. In Victorian times, this smokiness made zircon a popular gem for mourning jewelry. Today, most faceted zircon is free of inclusions that are visible to the unaided eye. Eye-visible inclusions cause a drop in zircon value. Rarely, zircon might contain long, parallel inclusions that create a cat's-eye effect when the stone is cut as a cabochon.

Cut: It's a challenge to cut zircon because the gem is brittle. Cutters usually fashion zircon in the brilliant style to take advantage of its brilliance and fire. Zircon can also be found in step cuts, which have rows of parallel facets, and mixed cuts, which are a combination of brilliant and step-cut facets.
Carat Weight: The supply of this December birthstone is generally limited, and typical zircon sizes depend on color. Blue or green stones normally range from one carat to 10 carats, with yellows and oranges up to around five carats. Reds and purples are usually smaller.
Zircon treatments, care & cleaning
Warm, soapy water is recommended for cleaning zircon. Ultrasonic and steam cleaners are not recommended for this December birthstone.
Zircon is commonly heat treated to produce blue and colorless varieties, as well as orange, yellow and red. The gem is generally stable when exposed to light, but some heat-treated stones might revert to their original colors (usually light brown) after prolonged exposure to bright light. Exposure to heat can alter the color of some zircon. Zircon is stable when exposed to chemicals.
Because zircon tends to abrade, it is best to avoid wearing it in rough conditions, such as while gardening, playing sports or doing dishes.
Ready to go shopping for the December birthstone?  Be sure to take our Tanzanite Buying Guide and Turquoise Buying Guide with you when you go!